The Ute Bumbag Company originated after many years of ute, caravan and 4×4 ownership.
Most wagon style 4x4s have an attached spare wheel that can carry a gear bag or rubbish bag, making it easy to avoid storing dirty gear or rubbish inside the cab. The ute style of vehicle misses out on this feature when camping, caravanning and four-wheel driving. But the solution is now here!
The Ute Bumbag is designed to provide good protection for the painted tailgate of the style side ute. Following the Terms and Conditions of fitting and caring for your ute and the Ute Bumbag is essential to protecting your ute from damage.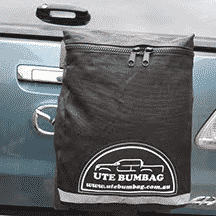 The Ute Bumbag is designed to be tough and long lasting. It is made from a stylish black mesh that is tear and cut resistant with a high UV rating. The Ute Bumbag allows for a garbage bag or waterproof gear bag to be used as a liner that can be removed for disposal or storage. The mesh is easy to wash and the reflective strip around the base of the bag ensures it is highly visible.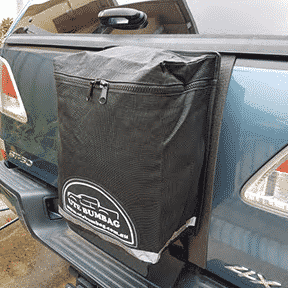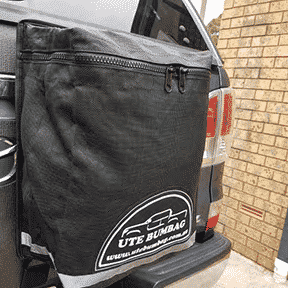 The Ute Bumbag is designed to fit most style side utes on the Australian market, i.e. Single Cab, Extra(Xtra) Cab or Dual Cab, with or without a canopy.
Rubbish … Keep all the rubbish outside your vehicle and prevent offensive odours inside your cab.
Beach Trip … After a day at the beach, store your sandy towels or wet cossies in the Ute Bumbag. The interior of your ute will stay dryer and much cleaner.
Bush Trip … Store your muddy boots, tools and snatch straps in your Ute Bumbag.
Firewood … Carry firewood to the campsite in your Ute Bumbag so you don't get any creepy crawlies in your cab or tub.
4×4 Gear … Quick access to retrieval(recovery) gear and tools.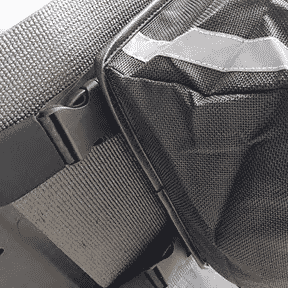 The metal zippers can be secured with a small padlock or zip tie for peace of mind while travelling, but the Ute Bumbag not is designed to prevent theft.
Your empty cans and bottles can be brought home to keep the environment clean, to be recycled, or to claim the deposit refund.
Useful, practical and high quality, the Ute Bumbag solves many problems and provides a great way to store gear, rubbish, firewood or tools while protecting the environment and your vehicle. It can be installed on utes both with or without a canopy.
The Ute Bumbag is a Registered Design, it is Trademarked and Patents are currently under consideration.
You are responsible for ensuring the Ute Bumbag product is suitable for your needs before and during its use.
For a list of vehicles suitable for the Ute Bumbag, please check our update page.