Everything you need to know about the Ute Bumbag
STORE YOUR GEAR - NO MESS, NO FUSS, NO DAMAGE, AND MADE TO LAST
Call it what you like, a dirty gear bag, rubbish bag, tyre bag, wheel bag, stone guard bag, bladder bag, ute tailgate bin bag, or a tailgate bag – The Ute Bumbag does it all.
The Ute Bumbag is designed to protect the painted tailgate of a style side ute. 
It is designed to be tough and long lasting and is made from a stylish black mesh that is tear and cut resistant with a high UV rating. 
A garbage bag or waterproof gear bag can be used as a liner that can be removed for disposal or storage. The mesh is easy to wash and the reflective strip around the base of the bag ensures it is highly visible.
The Ute Bumbag is designed to fit most style side utes on the Australian market, i.e. Single Cab, Extra(Xtra) Cab or Dual Cab, with or without a canopy.  
Useful, practical and high quality, the Ute Bumbag solves many problems and provides a great way to store gear, rubbish, firewood or tools while protecting the environment and your vehicle.
Rubbish – Keep all the rubbish outside your vehicle and prevent offensive odours inside your cab.
Beach Trip – After a day at the beach, store your sandy towels or wet cossies in the Ute Bumbag. The interior of your ute will stay dryer and much cleaner.
Bush Trip – Store your muddy boots, tools and snatch straps in your Ute Bumbag.
Firewood – Carry firewood to the campsite in your Ute Bumbag so you don't get any creepy crawlies in your cab or tub.
4×4 Gear – Quick access to retrieval(recovery) gear and tools.
The metal zippers can be secured with a small padlock or zip tie for peace of mind while travelling. However, remember that the the Ute Bumbag isn't designed to prevent theft.
Your empty cans and bottles can be brought home for recycling, or to claim the deposit refund  – to keep the environment clean.
You are responsible for ensuring the Ute Bumbag product is suitable for your needs before and during its use.
For a list of vehicles suitable for the Ute Bumbag, please check our Tested Vehicles page page.
Follow the Installation instructions and Terms and Conditions for fitting and caring for your ute and the Ute Bumbag as this is essential to protecting your ute from damage.
The Capacity of the Ute Bumbag is 
36cm Wide
46cm High
22cm Deep
31 Litres
10kg Maximum Limit
Why use truck mesh instead of Canvas?
The Ute Bumbag is made from a woven mesh fabric, called truck mesh, that is built to last, look and smell great. When compared to the canvas materials used for other dirty gear bags, rubbish bags, tyre bags, wheel bags, stone guard bags, bladder bags, ute tailgate bin bags, or tailgate bags (the Ute Bumbag replaces them all), our product withstands the demands of being all-purpose under the harsh Australian sun with ease.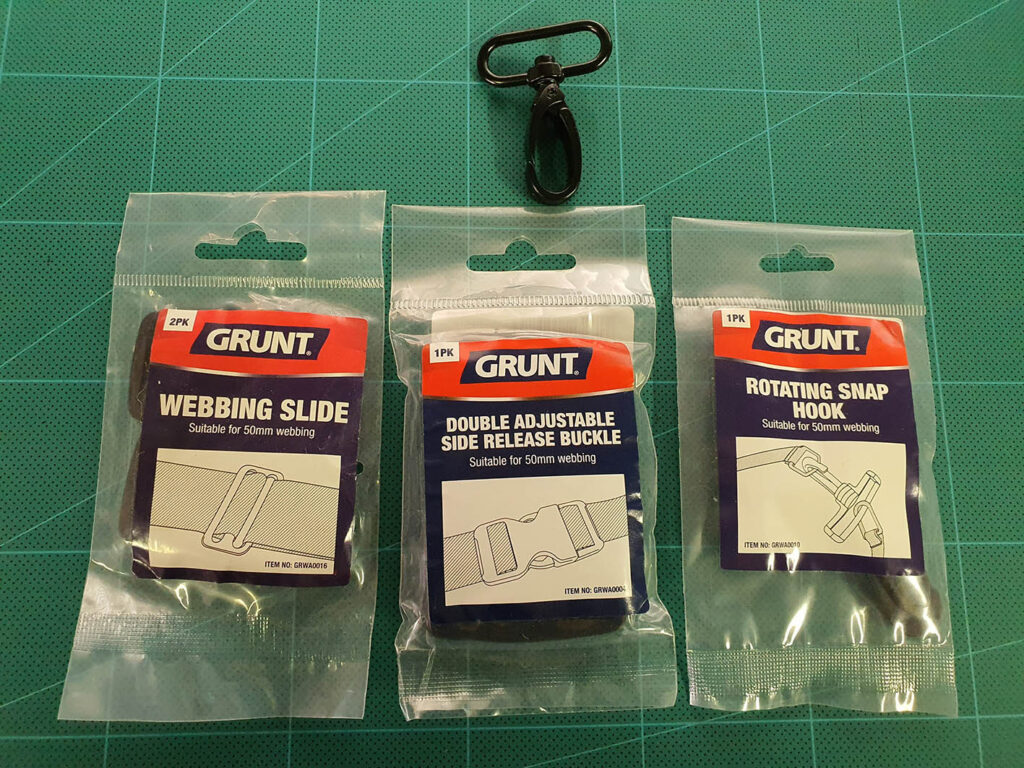 Clips for your ute bumbag
All of the Clips used on our Ute Bumbags can be found at Bunnings if you ever require replacements.
The unpackaged one is a GRUNT 38mm metal swivel snap hook.
The insert Bins are Willow 25 Litre Swing & Stay and can be found at Woolworths or Bunnings for around $22.
We also sell them at 4×4 Shows for just $20!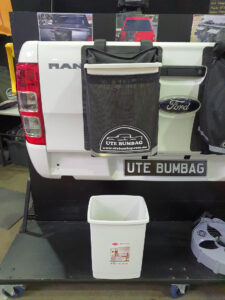 Like what you see? Buy your Ute Bumbag today.
Shop the Ute Bumbag
Buy your Ute Bumbag online today. Choose from the Ute, Table, or Wheel/ladder/Stone Guard models.
Tested Vehicles List
View a full list of the vehicle makes that have successfully had the Ute Bumbag fitted.
Installation guides
View the Installation videos and tips for installing your Ute Bumbag with some of the clip-on style Tonneau Covers.